Necklaces have been a staple of fashion since the beginning of history.
 From simple shell and bead necklaces of the Stone Age to the pectoral collars of ancient Egypt, the necklace has remained a coveted jewelry item. A necklace can be worn by anyone; the right necklace or pendant will add style to anything you wear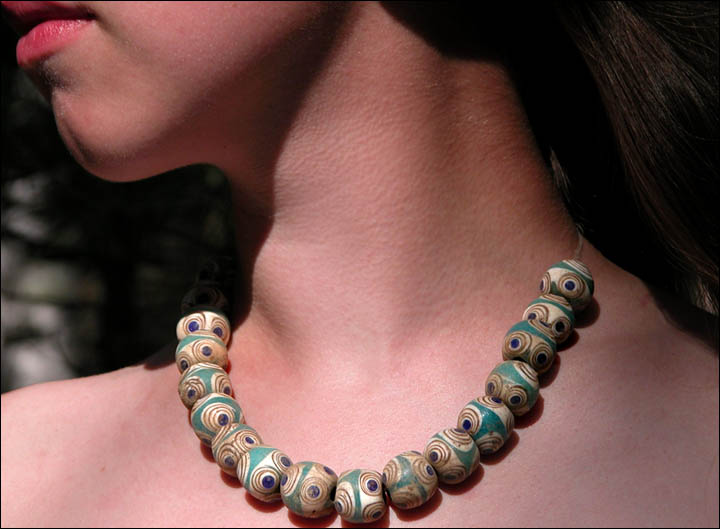 In general, a necklace is defined as a chain of precious metal or gems. They also have pendant styles that feature a single diamond, gemstone, fine metal design, or pearl, usually dangling from a chain.
First it's essential to know chain types, they are as follows
Bead Byzantine and Cable Chain
Mesh Rolo and Rope Chain

Snake Box and Wheat Chain
Then you need to Choose the Right Length
When selecting a necklace or pendant, consider that the length will determine where it will lie on the chest.
Collar: is pretty much what its name describes; a super short 12 to 13 inch necklace that hugs the middle of the neck.

Choker: A choker is a necklace that is usually 14 to 16 inches in length

Princess: At 18 inches, this length represents the classic and most popular necklace length.

Matinee: Sophisticated and sexy, the pearl matinee necklace is 20-25 inches. This classy necklace whispers refinement and barely meets the bust line.

Opera: Usually describing pearls, opera length necklaces are usually 26 to 36 inches in length.

Sautoir: Any bead or pearl necklace longer than 37 inches is referred to as a sautoir, or rope. And as long necklaces are incredibly in vogue, few necklaces are going to look as spectacular as rope.
 -And if you are looking to buy a necklace as a gift for your significant other then we've got just the guide for you!-
NECKLACES FOR HER: HELPFUL TIPS FOR BUYING GIFT JEWELRY
Looking for the perfect gift for a special woman in your life? You can never go wrong with a beautiful piece of jewelry..;
With so many options out there, choosing the right piece can be a challenge; luckily, it doesn't have to be. With a little work and a few smart tips, anyone can find the right necklaces for their significant other and choose a gift that is sure to be a hit with any woman.
Keep reading to learn what you need to know about different necklace styles and a few tips for choosing the perfect necklace for any lady in your life.
KNOW YOUR NECKLACES
From strands of pearls to lengthy chains to statement necklaces, there a wide variety of necklace styles to choose from. Before you decide which one is right for that special lady in your life, you need to understand the main differences.
A few necklace styles are self-explanatory, like strands of classic pearls. Others are less so.
A statement necklace
is usually one with large stones, diamonds, or other accents. It hangs at a mid-length (collar necklace); it isn't as short as a choker, but also isn't lengthy like a chain or a necklace designed for layering.
A necklace designed for layering is another great gift choice. These are long, often thin and delicate necklaces. They may have a few beads, diamonds, or other accents scattered throughout the length.
-If you're buying more than one of these necklaces for her, choose varying lengths for a dramatic look-
A pendant necklace features a chain with a single pendant hanging loosely from it. The pendant could be any kind of stone, gem, or other accents. The actual chain that the pendant is on can be a variety of lengths.
Now that you know how to identify a few popular necklace styles, it's time to start searching for the perfect gift for your significant other.
CONSIDER THE OCCASION
Before you start shopping for necklaces for her, the first thing you need to consider is the occasion.
Are you buying a necklace as an anniversary gift? Is it her birthday? Or are you just looking to give her a small gift to show you care?
If you're celebrating a special occasion, a fancier, more expensive necklace might be a good choice. The necklace will become a lasting memory of that special event.
But if you're simply looking for a gift that says you care, something she can wear every day might be a better choice. If you put thought into choosing the right necklaces for her, she'll always remember the moment, no matter how small.
CHOOSE HER STYLE
After the occasion of the gift, the next important thing to consider is what her style is like.
If she has a very minimalist style she might love a simple subtle necklace that complements her style.
If her style is colorful and eclectic, then a bright, unique necklace might be a better choice.
Choosing a necklace that will fit your lady's personal style is a great way to show that you took the time and effort to consider what she would like the most.
If you aren't sure what her style is, and you have some time before you need to buy your gift, Pay attention to how she dresses, and what jewelry she already owns and wears.
TRY A TREND
Choosing necklaces in the latest trend is a great way to give a gift that allows her to show off her fashion sense.
It's best to choose a trendy, understated piece. That will help prevent it from going out of style.
FIGURE OUT WHAT SHE ALREADY HAS
The last thing you want to do when picking out necklaces for her is to buy something that is the same or very similar to a piece that she already owns.
 We hope you found this guide helpful;
Make sure you put these tips to good use.
Aug 28, 2019

Category:

News
Comments: 0